What makes Al-Kausar milk special?
A cow's milk is determined by what it eats. Keeping the key factor in mind, we at ALKausar farms have always put an animal's need first. With years of research ahead of initiation of the farm, and even, dealing with animals at comparatively smaller number, we have closely studied the kind of nutruition an animal needs to produce best milk. We have been producing 100% fresh organic milk for several years now. Our aim and motivation has always been pure, hygenic, healthy and additive free milk. In a world where mass production is top proirity, the meaning of what is important for our overall health has been lost in translation. But not at ALKausar farms! At AlKausar farms, we want to break the stereotype, and bring forth to our customers purity and quality. Al-Kausar team has come a long way to bring non-homogenized, non-additive, preservative free milk. AlKausar farms we are breaking the tradition, we are bringing the customer what he actually needs!
Purity Factors
No injections
No chemical storage containers
Pasteurized is never supposed to contain all the healthy constituents of the milk together
We deliver fresh and supply as per the milking routine i.e., twice a day.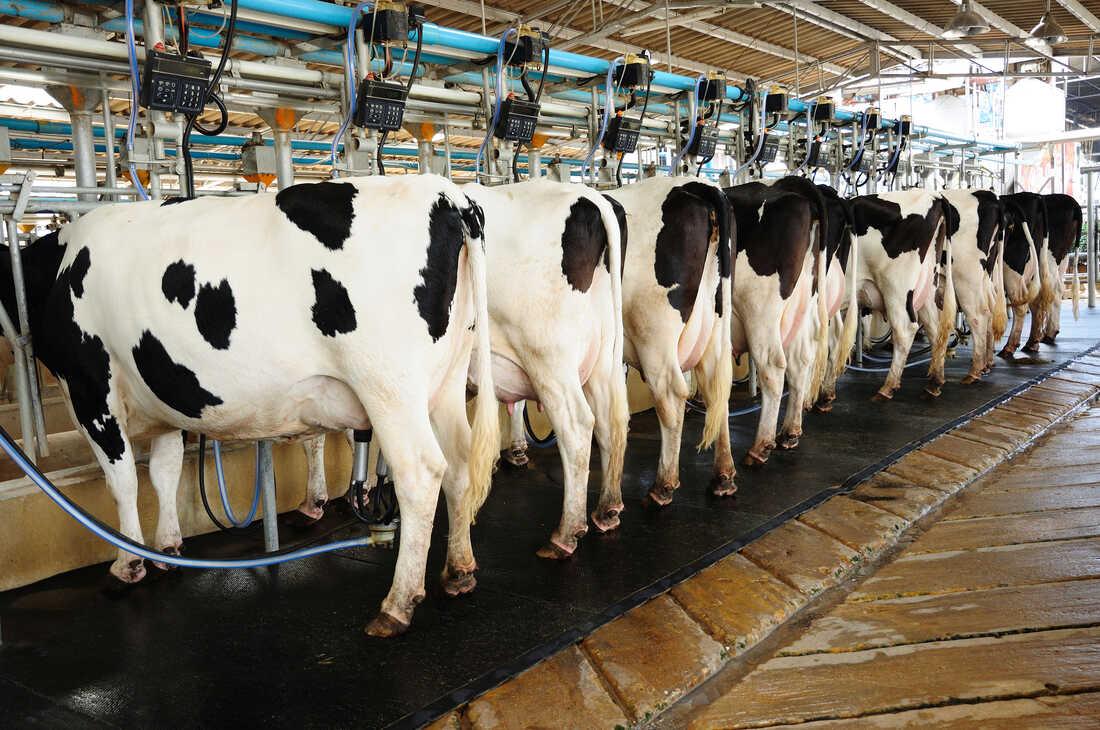 What makes our animals special?
Traditionally, animal's weight is mainly increased by its fat content but here at ALKausar farm we concentrate on great nutrition of the animals so their muscle content is much higher than fat content resulting in lean and exquisite animals
We also believe in very little intervention when it comes to nature, i.e. only extremely necessary vaccinations are given to animals. No fat boosting, muscle boosting, milk yielding, steroids of any kind are given to animals at Al-Kausar farms.
Since the farm is located in an isolated area with few other animals being herded in the same area, chances of diseases spreading in our animals is next to nill.
The Imported Heifers and Dairy Cows, though having high yield and authentic pedigree from their parent farms in Australia and / or Britain. Various dealers and importers are present in the market. The main difficulty is maintaining their yields and also the risks involved in the probability of their Pregnancy and post Pregnancy risks (having borne female or male). A lot of research in embryo and AI (Artificial Insemination) has also not proven to eliminate the power and role of Nature involved. The costs involved are also very high. Local markets of Animals in South region do have a number of very fine Cross breed Cows But there also the risk of fake milk quantity and disease and many other factors are at play. Initially purchasing Dairy Breeder Bulls and a mix of Cross Breed cows and 2 Swedish Blu (Pure Pedigree) and 1 Holstein (pure pedigree) along with 4 other cross bred Sahiwal dairy animals and 2 Male Pedigree Bulls H/F of the Freddy, USA was BOUGHT IN BY THE FARM.
Bull Breeding and Artificial insemination
Dairy cows pedigree f1 and f2)
Heifers and calves (f3 and f4) 95% pedigree
Beef animals for Qurbani and slaughter
KEY FACTORS IN LIVESTOCK BREEDING
Beef breeders selection and insemination in local bred cows and Sahiwal cows for producing male beef animals of high quality
Calves and heifers section breeding and proper care while mixing them with adult females near their heat season.
Inducing learning habits among dairy cows, as they are best learners and also adapt rapidly to changing environments.
Producing a cycle of f2 and f3 pedigree dairy heifers for our own use and since last 3 years been providing quality dairy pedigree calves and heifers to local farms and dairy farm owners.
The semi-commercial model helped us in applying modern breeding trends with traditional farming trends so as to keep the cost low and also provide best quality dairy animals which can adjust and adapt to our environment and weather conditions.
350 – 270 milking days with a 100 percent pregnancy cycle maintained among dairy animals.
Order Now For Home Delivery